7 black-owned businesses to visit beyond Black History Month
by Bossy contributors Aishwarya Jois, Fallon Parfaite, and Sophie Davis
Black-owned businesses are often the cornerstones of our communities, creating spaces for all individuals to feel welcome, safe and accepted regardless of who they are or what they believe.
Despite this, only 2.1 percent of businesses in the United States are Black-owned. Of those, 14 percent have only been in business for less than two years.
Every year in February, media outlets and advertising agencies across the country promote Black-owned businesses throughout Black History Month, encouraging customers like you to buy Black-owned. But supporting Black-owned businesses should be a continued means of expression, not something that stops when February comes to an end. Let's not limit our intersectionality -- here are seven of our favorite Black women-owned businesses in Chicago to visit long after BHM is over.
Inspired by travels to Africa, Faie Edwards, founder of Faie Afrikan Art Gallery, says she really wanted to share her experiences with people.
An art gallery showcasing art from Western, Eastern, Central and Southern Africa, Faie Afrikan Art focuses its mission on "making quality African art… available to wider audience."
As Faie Edwards says, "In this community, which is a community I live and work in, we are really descendants of the people who created these works and I really want them to be in places where people can be exposed to the culture, to the meaning, to the beauty of these pieces of work."
Dedicated to providing quality hair-care to curly-haired women everywhere, Curl Kitchen was founded by a woman of color, for women of color. Their mission? To "specialize in a truly unique experience for your healthy curl hair journey!"
It's most important for Clare's clients to feel at home. "One of my clients tells me that getting her natural hair done reminds her of when she was a little girl and having her mom do her hair. And for some people, it's nostalgic."
And on being a Black, female business owner: "It has not been easy. I think it's always going to be harder for African Americans, especially black women, to own a business in the city of Chicago where there aren't that many businesses on the south side… It's important for us to stick together because there's not that many of us."
3. Creative Sippin, Morgan Park
Focused on delivering outstanding customer service with unique experiences, Creative Sippin has found a way to create a distinctive memory for every one of their guests. A clear example? Their most popular night is the "Girls' Naughty Night Out" class, where guests can paint a male nude model and take a class on twerking.
As Veranda Adkins, co-founder, says, "I think we are breaking the mold and the stereotype of what black businesses are."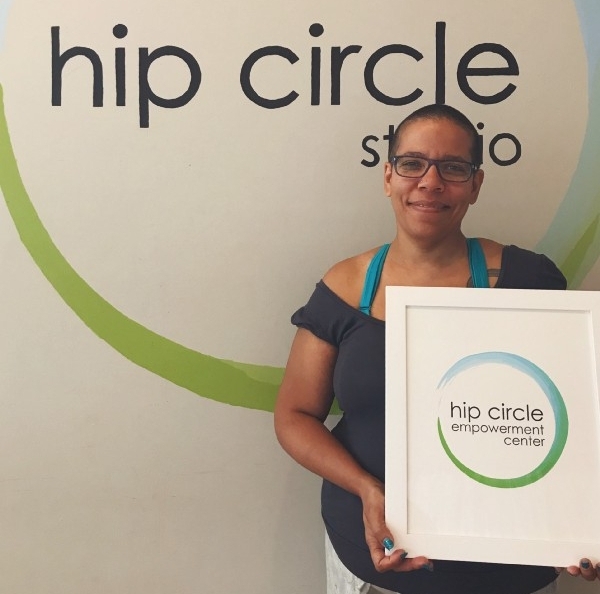 A dance and fitness studio dedicated to body positivity and female empowerment, Hip Circle Empowerment Center makes sure they're open to all women. Offering yoga, pilates, bellydance and more, Hip Circle's mission is that "through dance, fitness, and community we empower ALL women to believe they are strong, beautiful, and worthy of attention".
As Malik Turley, founder and owner, says, "A lot of fitness places will talk about, you know, we welcome everybody, and that's great and we do too. The big difference for us is that not only do we welcome you, but that we don't expect you to change… we're not trying to 'fix your flaws'."
Known for their all-natural chocolates, My Chocolate Soul's Ramona Thomas believes "things that come from the earth, from the ground, are better than things that are made in the lab."
Ramona has always been motivated by the women around her: "I was born into a circle of strong women, and I think my nature is to draw that and to look for that and to nurture that and appreciate it."
It's what's led her to her position as the "Chief Sweets Officer" of My Chocolate Soul. Ramona is currently making 100% of the chocolates herself -- forget the chemically-processed chocolate and added sugars and try Ramona's handiwork for yourself.
Laurene Hynson has been running Sweet Maple Cafe for 18 years now. It's a Chicago staple, and it's easy to see why: "My goal is to make people feel like someone who loves them made them breakfast."
Sweet Maple Cafe has created a community of long-time loyal customers: In Laurene's own words, "What I love about this place, I think, is that now the kids who were in high chairs when I opened the restaurant bring their dates to Sweet Maple… it's so funny."
An award winning fashion boutique and event space, Standout Style crafts an individualized experience for every one of their guests, every single day.
Tamika Price, the founder and owner, built Standout Style's South Side location as a "female entrepreneur meeting space." Far from the traditional retail shop, Tamika combines all of her experience to create a truly unique environment that encourages community building and empowerment.
In Tamika's own words, "The main goal is always the same: to make women feel comfortable in here. I want them to have an experience, not just shopping and sales. I want them to feel good about whatever they leave out the door with, whatever experiences they've had here, I want them to feel fulfilled."